Manhattan Elevated Cars in Arkansas
© 2012, 2015 by Bill Pollard
In the 1950s and 1960s, it was not uncommon to find railroad passenger car bodies in a variety of non-rail uses; everything from barns to a private residences to roadside diners. Two of the more unusual cars could be seen in Pine Bluff and DeValls Bluff, where the cars were in use as roadside diners. It was generally assumed that the car in Pine Bluff had been retired from the Cotton Belt, and that the car in DeValls Bluff might have served on the Rock Island. On closer inspection, however, these assumptions were far from accurate.
---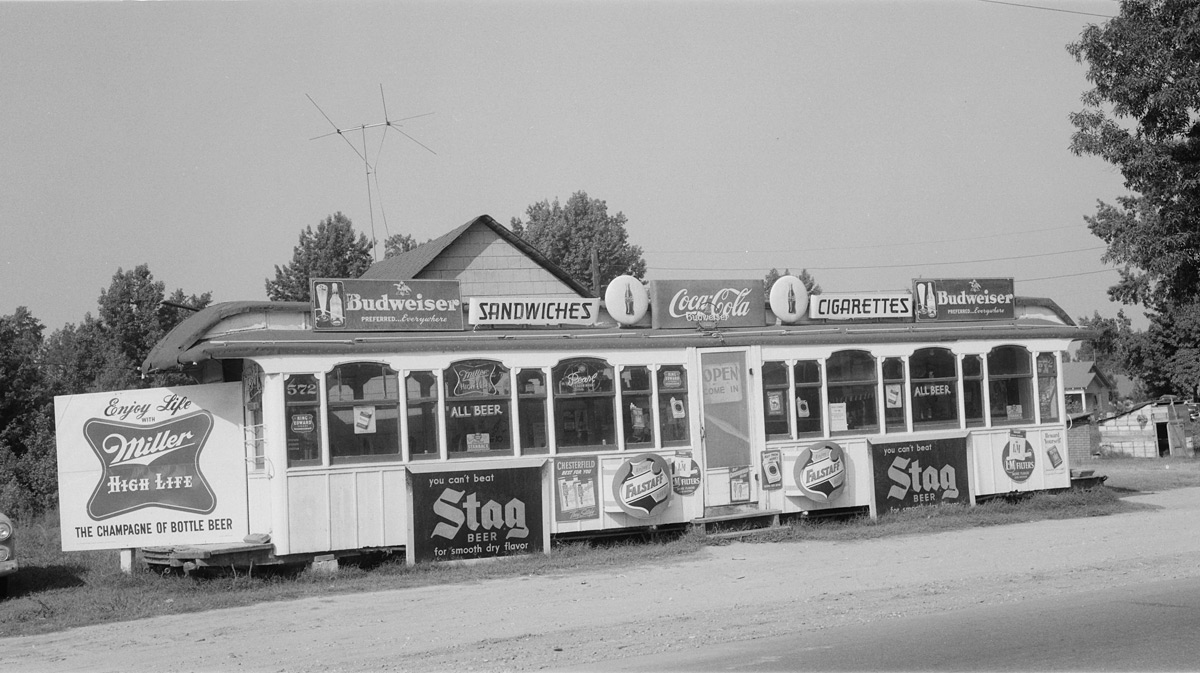 Roadside diner-bar - Pine Bluff, Arkansas - circa 1962. Photos by Earl Saunders. At that time, this car was located near the "Y" of the road where the old Little Rock highway and Dollarway Road came together in the 1950s and early 1960s. It was in an area along the edge of Pine Bluff that was then known as Dew Drop. This was one of several such establishments housed in former railroad, trolley or elevated railway cars in the Pine Bluff area. Other nearby rail car establishments included one on East Harding and State (Steve's, later Anne's Grill) and another beyond Jones Cafe on Noble Lake.

This particular car was purchased from the arsenal in the 1940s by Alex A. George. It was moved to this location and opened as the Dew Drop Inn, with Alex George's wife, Eula Mae serving as cook. Living quarters for the family was built onto the back of the car, with some rooms wallpapered with beer cartons and cereal boxes. Five children of the George family were raised here, with each having chores in the diner when growing up. The diner, later known as George's Cafe, was no doubt a lively place in its day, and the end with the Miller's Beer sign was set up to accommodate live music. In the 1950s, Alex George leased the diner and it was operated by several others before being finally closed in the 1970s. Thanks to Phillip Cash, grandson of Alex George, for these details.

The photo below shows the same car, now named Jack's Place, in July 1973, after a highway realignment brought Dollarway Road closer to the restaurant. The car survived until at least 1976. In present day terms, this location is described as being across the street and several blocks from Brookshire's, near Dale's Store.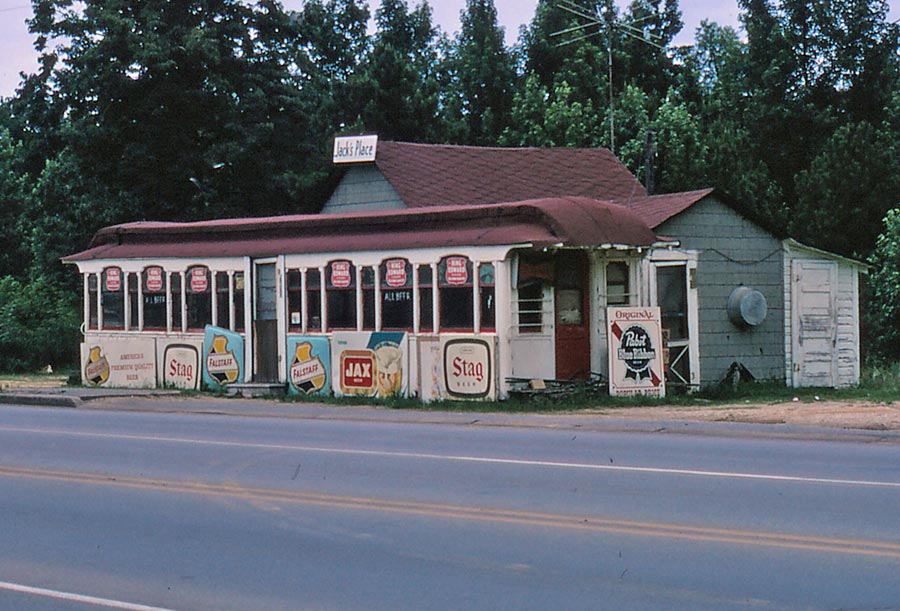 ---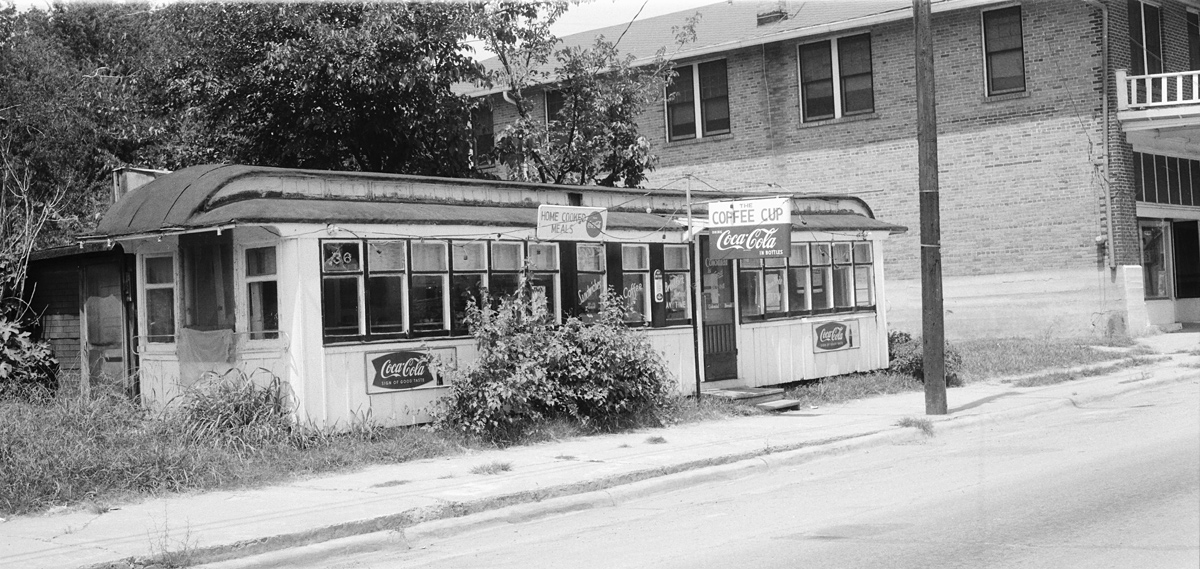 The Coffee Cup, roadside diner on US Highway 70 in Devalls Bluff, Arkansas - circa 1962. Photos by Earl Saunders.
---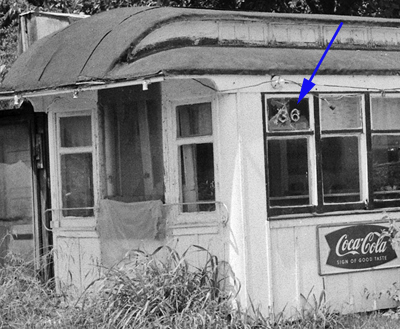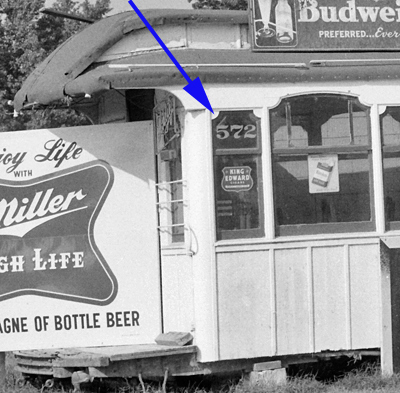 The first clue about the origin of these cars is the car number, which surprisingly survived through several owners. A second clue is the car design, which is more reminiscent of a transit vehicle than a steam railroad's passenger car. Thanks to exposure on the Roadside Diners website, at least part of the history of these unusual cars is now known.
On June 11, 1940, New York's Second Avenue El discontinued operation of the portion north of 59th Street to the 129th Street terminal. Two years later, on June 13, 1942, the remaining service on the 2nd Avenue El ended, including service over the Queesnboro bridge. Most of the Ninth Avenue El had also closed, resulting in many surplus trailer cars which were sold for various uses around the country.
The U.S. Government purchased a large number of New York Elevated cars to be used in shuttle service for employees of various defense facilities that were gearing up following the United States entry into World War II in December 1941. New York elevated cars were shipped to Springfield, Illinois and Oakland California, among other places, where they were placed in employee shuttle service. Key System operated cars between Oakland and Richmond, California, and Illinois Terminal began operating 55 cars over a 25-mile route between Springfield and Illiopolis, IL on November 30, 1942.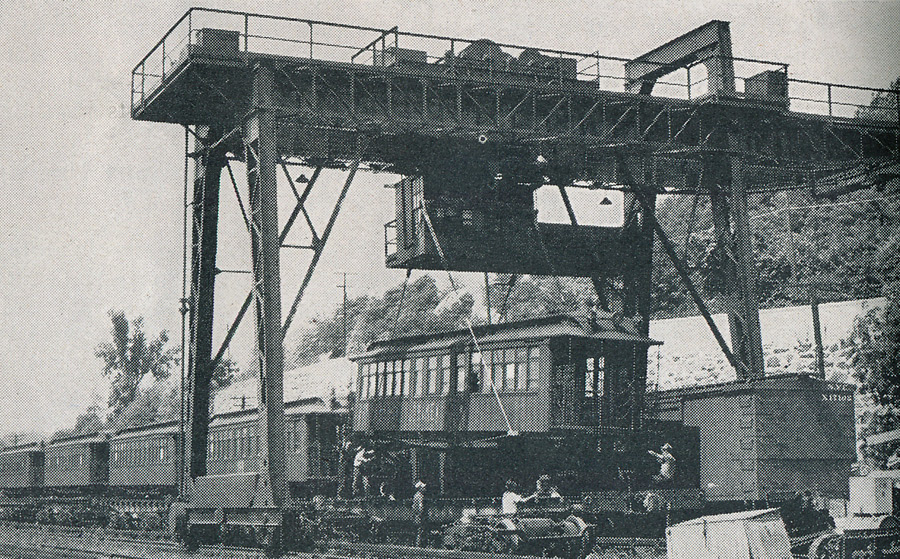 Cars from New York's dismantled elevated lines being loaded by New York Central for shipment to Oakland, CA, for use by Key System in hauling shipyard employees from Oakland to Richmond. Cars shipped to the Pine Bluff arsenal were no doubt loaded in similar fashion. Railway Age, July 18, 1942, p112.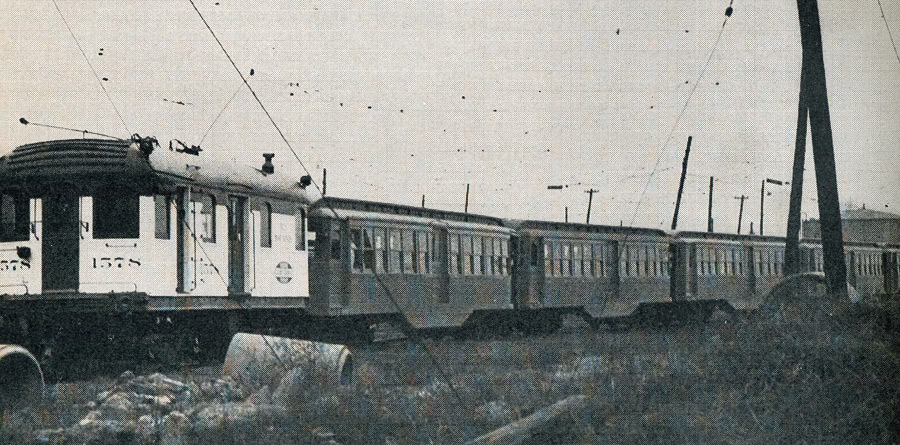 Illinois Terminal locomotive 1578, painted red, white and blue, pulls the first victory special of former El cars on November 30, 1942. The tangerine painted cars were reconditioned at the shops of American Car and Foundry in St. Charles, MO. Bench seating was installed along each side of the car and down the center, giving each car an 80-passenger capacity. Railway Age, December 19, 1942, p1014.
---
The two cars pictured at Pine Bluff and DeValls Bluff were among a group of 28 sold to the Pine Bluff Arsenal, an Army Chemical Corps facility which had been activated in November 1941. The mission of the arsenal was to manufacture incendiary grenades and bombs for service during World War II; this mission later expanded to include the manufacture, loading and storage of war gases. During the war, 10,000 civilians and 350 military personnel were employed at the facility. In size, the arsenal grew to occupy over 900 buildings, with 43 miles of road and 14 miles of track.
The arsenal was adjacent and east of the Missouri Pacific mainline extending between Pine Bluff and Little Rock. In January 1942, the Cotton Belt requested Interstate Commerce Commission permission to construct a 4.5 mile branch from their mainline in Pine Bluff, northwestward to the southern border of the arsenal and to Baldwin, a joint station with Missouri Pacific. The Cotton Belt petition to the ICC indicated that Cotton Belt would also operate 1.5 miles of trackage within the arsenal itself. For much of the 4.5 mile route, this new line paralleled the MP line a slight distance to the east.
The cars purchased for use by the Pine Bluff arsenal were apparently intended to become a part of an employee shuttle train operating along the new Cotton Belt arsenal branch from approximately 3rd & Mulberry (a few block west of downtown Pine Bluff) to the arsenal. It is uncertain whether the shuttle trains ever actually operated; the shuttle proposal called for over 50 passenger cars, but the program ended before additional cars were delivered. The logistics of getting employees between their homes and the Pine Bluff end of the branch perhaps made shuttle operation impractical for a run of less than 5 miles. The actual use of these cars at the arsenal will thus require additional research. In any event, after World War II, some carbodies were sold for other uses, and at least one survived into the mid-1970s.
---
The hustle and bustle of New York City is evident in this 1900 photograph of the Bowery near Grand Street. While horse drawn buggies and delivery wagons intermingled with trolley cars at street level, the elevated trains pass overhead relatively unimpeded by the traffic below. This was the elevated system for which the cars were originally built, before the system was electrified with a third rail.
---
Car 572 was originally built by Pullman in July 1878 as Metropolitan Railway trailer car #72, later becoming Manhattan Railway #572 and and finally owned by IRT (Interborough Rapid Transit). When built, the cars were hauled by small 0-4-4T Forney steam locomotives, and were eventually equipped with vacuum brakes. When the Manhattan El was electrified in 1902-1903, these trailers wer equipped with electric lights, air brakes, and control trainline circuits to work between motorized cars. This car was sold to the US Army-Pine Bluff Arsenal on July 6, 1942. A photograph of sister car 571 appears below.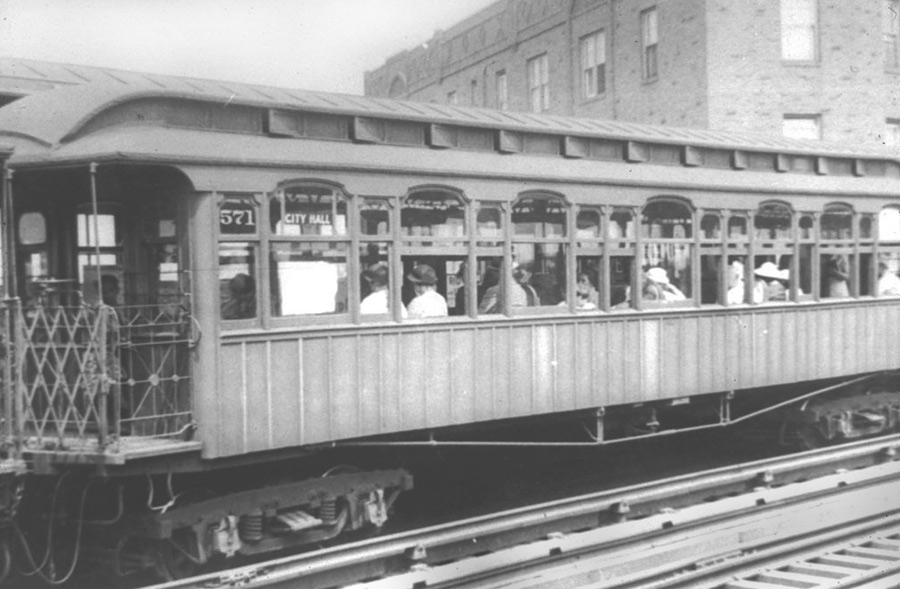 Car 36, which wound up as the "Coffee Cup" at DeValls Bluff, was originally Manhattan Railway trailer #36, built by Pullman in June 1885. It passed through IRT ownership and was sold to the Pine Bluff Arsenal on June 30, 1942. According to George Horn's Manhattan roster, 26 additional Manhattan cars were sold to the Pine Bluff Arsenal, inlcuding 5, 13, 257, 266, 282, 284, 323, 327, 339, 366, 367, 529, 535, 541, 565, 584, 590, 597, 599, 602, 611, 619, 647, 648, 677 and 678. A car of similar configuration to trailer 36 is shown below.

For additional historical coverage of New York's subway and elevated rapid transit systems, visit NYCSubway.org.
---
Can you provide additional information about the use of these cars in Arkansas during and after World War II? Did any of the other 26 Manhattan El cars transition to civilian use in Arkansas after the war? If you have photos or information about these cars that you would like to submit for this page, please use the contact email on the home page.
---