---
The ROCK - Named Diesels
---
This list was originally prepared for the Rock Island Technical Society, the historical and modeling group for the Rock Island Railroad which had been formed in the 1970s. Due to a series of apparently insurmountable problems of which most members are painfully aware, RITS ceased to exist for all practical purposes in 2013. As one of the original compilers of this information, I am reposting an updated version on the Arkansas Railroad History website to make sure that the information remains available as a reference source for anyone with an interest in the late, great Rock Island.
---
This list of named Rock Island diesels was compiled from various postings to the RITS List by George Davison and Bill Pollard. Additional information was provided by Richard Campbell, Eliot Keller, Wes Leatherock, Dick Tinder, Matt Willett, and others. Corrections or additional information any locomotive name would be greatly appreciated.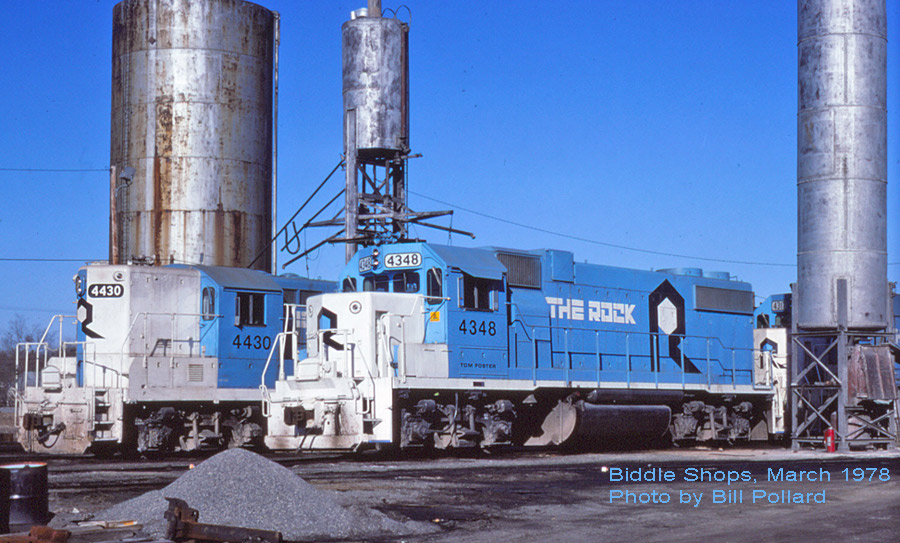 The general premise of the 4300s name series was "friends of the Rock Island." The politicians so honored had been supportive of the Rock Island in some fashion, often in the course of the railroad's efforts to obtain funding to rehabilitate track or equipment. The same process applied with cities and states, with only those active in helping the railroad being honored. Absent from the list are Rock Island states such as Colorado and Tennessee, as well as many major Rock Island cities (Memphis, Oklahoma City, Denver, Dallas, Kansas City, St. Louis, etc.) As in the case of the politicians, the cities (and states) were honored for efforts on behalf of the railroad in the form of "official" support for RI efforts to secure loans, etc. A few diesels other than the 4300 series GP38-2's were also named. Although not in the same series, these locomotives are also included at the end of this list.
The GP38-2s were the first new motive power on the Rock Island since 1973. They were delivered from Electro-Motive in the "new image" blue and white paint scheme. The first order of GP-38s arrived from EMD in 1976, about one year after the Rock Island had filed for bankruptcy. The first order consisted of units 4300 to 4314, which were delivered during August and September 1976, and units 4315 to 4355, which came to the road between September and November 1976. A second group of GP38-2s, units 4368 through 4379, were delivered in November 1978. These new locomotives helped keep the Rock Island moving during its desperate attempt to survive.
---
4300 - The Rock Islander -- a well deserved tribute to the often beleaguered employees of the railroad
4301 - John L. McClellan -- U.S. Senator, Arkansas, and a strong advocate for maintaining a viable Rock Island
4302 - Dewey F. Bartlett -- Governor of Oklahoma (later U.S. Senator)
4303 - Iowa -- State of Iowa.
4304 - The Loyal Shipper -- recognition of shippers who had stayed with the railroad despite its problems, and shippers who had lobbied for loans to assist the railroad.
4305 - City of Muscatine -- community south and west of Davenport on the Golden State line
4306 - City of Atlantic -- about 70 miles west of Des Moines, where the Audubon branch joined the main line
4307 - Railway Age -- Industry trade journal which was generally supportive of the Rock Island's efforts to rebuild the railroad
4308 - Oklahoma -- State of Oklahoma
4309 - Kansas -- State of Kansas
4310 - The American Railfan -- the Rock Island's recognition that people outside the rail industry were amongthe railroad's most vocal supporters
4311 - Richard F. Drake -- Iowa state senator, long time chairman of Iowa Senate transportation committee. Drake, a Republican, was an important figure in getting state funds to help "Save the Rock" and preserve various branch lines (particularly grain gathering lines) in Iowa.
4312 - James H. Windsor III -- Jim Windsor, of Des Moines, served on a number of Iowa committees which were formed to help keep the Rock Island in operation. He was a Rock Island stockholder, is is a photographer and railfan.
4313 - Glenn L. English -- U.S. Representative (D), Oklahoma, representing Oklahoma's 6th congressional district.
4314 - Martin A. Russo - U.S. Representative (D), Illinois, representing Illinois' 3rd congressional district, which included Blue Island.
4315 - David P. Morgan -- longtime editor of "Trains" magazine.
4316 - Garland L. Rucker -- mayor of Herington, Kansas in mid 1970's, at a time when the Rock Island was Herington's major employer. Rucker was also a former Rock Island employee.
4317 - Charles O. Laverty -- owner and operator of large grain elevator (Laverty Elevator)in Indianola, Iowa
4318 - David L. Boren -- governor of Oklahoma (later U.S. Senator)
4319 - Illinois -- State of Illinois
4320 - Arkansas -- State of Arkansas
4322 - City of Herington -- important Kansas division point on the Golden State route, and junction with the north-south "Mid-Continent" line to El Reno and Ft. Worth.
4323 - City of El Reno -- important Oklahoma division point and junction of east/west (Choctaw/Sunbelt Route) mainline and north/south (Mid-Continent Route) mainline.
4324 - Jerry L. Litton -- U.S. Representative (D), Missouri, representing Trenton, MO and the area north and east of Kansas City on the Golden State route. Litton, his wife and two children died in a plane crash in August 1976, on the night that he won the Democratic primary for United States Senator.
4325 - Nebraska -- State of Nebraska
4326 - Missouri -- State of Missouri
4327 - Minnesota -- State of Minnesota
4328 - City of Silvis -- Silvis, located on the western Illinois border, was the site of a large yard and the Rock Island's primary locomotive shops.
4329 -- City of Blue Island -- Chicago suburb and yard, importing staging area for Chicago suburban trainservice.
4330 -- Carl B. Albert -- U.S. Representative (D), Oklahoma, representing Oklahoma's 3rd District which included McAlester. Albert was Speaker of the House, retiring in January 1977.
4331 -- Robert D. Ray -- the Governor of Iowa. After shut down, the Governor made a special trip to the Des Moines yard where his locomotive had been cut out so that photos could be made with him on board.
4332 -- The Indianola Branch -- Iowa branch rehabilitated with shipper financial assistance.
4333 -- Audubon Branch -- one of the first lines rehabilitated in Iowa, extending from Atlantic to Audubon.
4334 -- Iowa Falls Gateway Shippers Association -- A group in North Central Iowa which contributed money to rehabilitate lines serving their elevators.
4335 -- David Pryor -- Governor of Arkansas, elected U.S. Senator (D) in 1978.
4336 -- City of Rock Island -- Illinois city on the eastern bank of the Mississippi River where the Rock Island originated and gained its name.
4337 -- City of Davenport -- Iowa city located on the west bank of the Mississippi River, opposite Rock Island, Illinois.
4338 -- City of Moline -- Illinois city adjacent to Rock Island, Illinois; (one of the "Quad Cities -- Rock Island and Moline, Illinois, and Davenport and Bettendorf, Iowa.)
4339 -- City of Enid -- Oklahoma crew change point, on north/south line north of El Reno
4340 -- Neal Smith -- U.S. Representative, Iowa. Represented Iowa's 4th District which included Altoona.
4341 -- Modern Railroads -- Industry trade magazine which editorially supported RI efforts for rehabilitation loans
4342 -- Allen E. Arnold -- Owner of Arnold Grain & Livestock Co. in Sibley, Iowa. Allen Arnold was a major shipper on the Rock Island, developing a hydraulic system capable of loading 54 cars a day. He also worked extensively with Rock Island to initiate train routes hauling grain to the Gulf of Mexico and to obtain funds for track improvements in the Northwest Iowa area particularly the line through Spirit Lake and Lake Park.
4343 -- City of Little Rock -- hub of Rock Island's Arkansas division and site of Biddle shops.
4344 -- Fred McKim -- manager of West Bend Elevator in northwest Iowa, a major shipper of corn and soybeans.
4345 -- Ivan the Terrible -- nickname of Ivan E. Summa, general manager of Superior Cooperative Elevator Company in Superior, Iowa.
4346 -- Senior Traveling Freight Agent -- recognized John W. Barriger III, the widely respected rail official who was brought aboard to help turn the Rock Island around. The locomotive was to be named for Barriger, but he requested this name as an alternative.
4346 -- Navajo Nation -- after John Barriger's death in December 1976, locomotive 4346 was renamed Navajo Nation in June 1977. Navajo track crews, particularly rail relay gangs, handled much of the rebuilding efforts on the Sunbelt [Choctaw Route] line, and the Golden State line.
4347 -- Tom Railsback -- U.S. Representative (R), Illinois 19th District, which included Rock Island & Silvis.
4348 -- Tom Foster -- engine watchman and one-man RI booster club at Haskell and Malvern, Arkansas who retired on August 31, 1965 after 45 years of service. Foster later (1974) wrote a book Forty-five Years on the Rock Island Line. Soon after locomotive 4348 was delivered, it was brought to Malvern where a surprise ceremony recognized Tom Foster's dedication and loyalty to the railroad.
4349 -- Robert Krause -- Robert A. Krause was an Iowa state representative (D), elected in 1972. He was interested in transportation issues and served 4 years as chair of the legislative transportation committee before moving to the US Department of Transportation.
4350 -- Mike Lemke -- General Manager of Klemme CO-OP, a grain cooperative.
4351 -- City of Albert Lea -- junction point just north of the Iowa-Minnesota line on the "Albert Lea Route"
4352 -- John W. Ingram -- former FRA official who was selected as president and CEO of the RI on 1 November 1974, in the hope that he could expedite efforts to get federal loans for the railroad.
4353 -- Nicholas C. Manos -- attorney for RI bankrupcy trustee William Gibbons
4354 -- Frank J. McGarr -- Illinois attorney who was appointed a Federal judge in 1970, presided over the Rock Island bankruptcy, and made the final decision on 25 January 1980 that the property could not be reorganized and should be liquidated.
4355 -- William M. Gibbons -- selected to serve as bankruptcy trustee by Judge McGarr. Gibbons, an attorney for 28 years, knew nothing about railroads, but had attended Loyola in the 1930s with McGarr and had practiced law with McGarr from 1963-1970. He was reportedly offered the trustee job after two men with railroad experience had turned McGarr down. Gibbons fought to keep the railroad alive, but once the decision was made to liquidate, many considered his actions on behalf of stockholders to be unnecessarily heavy-handed and confrontational.
4356-4367 These locomotives were ordered but never delivered, due to the collapse of financing arrangements. It is currently unknown whether or not the Rock Island had any preliminary plans to assign names to these units.
4368-4371 -- Unnamed. When financing was finally arranged, numbers 4368-4379 were assigned, leaving a 12-unit gap in the GP38-2 roster. The reasoning behind the decision to leave a numbering gap in this locomotive series is currently unknown.
4372 -- Great American No information available.
4373-4375 -- Unnamed.
4376 -- P.H. Kuyper -- member of the family in Pella, Iowa, that owned Pella Rollscreen, the window manufacturer, a major shipper.
4377-4379 -- not named
---
---
The GP38-2s were not the only named locomotives during the bankruptcy years, as a number of seemingly random units in the railroad's "capital rebuild program" also received names, as did three slugs which were constructed at Silvis from retired diesels.
GP7 - GP9 rebuild units which were named [information needed on names, and dates that names were applied.]
4424 -- John W. Barriger III (see discussion of 4346)
4478 -- C.W. "Charlie" McLaron Jeff Worones provided the following information from a long ago email conversation with Bill Hoenig: "The 4478, " C.W. Charlie McLaron" was named after a long-time Section Foreman(MofW) at Princeton, MO. Charlie personified the loyalty, dedication and professionalism of so many of the old time Maintenance of Way people who were the backbone of the Rock Island. He always knew what needed to be done to take care of his section and the good of the railroad, and he did it. I got to know Charlie well when I was Trainmaster at Trenton, MO. He was always ready to share his knowledge and was so proud of having a locomotive named for him."
4483:2 -- Wayne Hummer
4485:2 -- Manly Centennial (Manly, Iowa)
4500 -- Rock Island Locomotive Engineers
4554 -- Winnebago
4555 -- Shawnee Miller In June 1977 Rock Island recognized the 71-year business relationship with Shawnee Milling Company of Shawnee, Oklahoma by naming this locomotive.

Slugs which were named:
284 -- The Great American Energy Saver
998 -- Dedicated to the Silvis Shop Employees
999 -- Pride of Armourdale

---
Disposition of Rock Island 4300s: From the Summer 1980 issue of the Missouri Pacific Historical Society Eagle newsletter.

After the Rock Island was shut down by federal court order, leased equipment was freed and made available by their owners to other roads. Girard Bank & Trust reassigned fifty-two former ROCK GP38-2s 4300-4351 to the Missouri Pacific. All of these units, except 4309 and 4316 had been held at the RI Silvis, IL shops and were transferred as a unit train movement to Morris, IL. At that point, they were interchanged to the EJ&E Railway which was running the segment of the former RI mainline from that point to Joliet. The EJ&E delivered the units to the MP at Chicago Heights IL on April 25, and they were checked out by the MP at Yard Center on April 26. Units were either placed into service or sent dead-in-transit to St. Louis for repairs.

The 4309 and 4316 had run as the Rock's last northbound train in to Chicago, and were being held at Blue Island. These units were transferred to the MP on April 22. The 4316 ran in the lead the following day on train CFZ, and the 4309 was behind 3119 on the Salem extra the next day. All the units will be renumbered 2238-2289 and assigned to Kansas City for maintenance. They will eventually be repainted, but in the interim, several have appeared with THE ROCK painted out by a dark [Jenks] blue MoPac rectangle. Most have had MP radios installed.
---