Kansas City Southern's "Airline Connections" in 1940
Copyright 2022 by Bill Pollard
---
In May 1928, Transcontinental Air Transport (TAT) was formed to develop an air-rail routing from coast to coast. Before service could begin, it was necessary to make "infrastructure improvements" along the route, most notably a huge hanger in Waynoka, Oklahoma and an airfield with extensive lighting to allow after dark landings. During the early days of commercial passenger aviation, the public was not ready for nighttime flying and neither pilots nor planes were really equipped for flying in low or no visibility conditions, thus the hybrid arrangement of train plus plane. Service began on July 7, 1929, with an inaugural train over the Pennsylvania Railroad traveling overnight from New York City to Columbus, Ohio. At that point, TAT Ford Tri-motor planes were waiting to carry passengers onward to Waynoka, Oklahoma with several intermediate stops. At Waynoka, passengers boarded a Santa Fe train for overnight travel to Clovis, New Mexico. Upon arrival there the following morning, another TAT Tri-motor was waiting to take passengers onward to Los Angeles. Although this service lasted only until October 1930, is is well known because it was the first rail-air cooperative venture to see whether there was a market niche where each mode could offer a competitive and profitable service while also taking advantage of the connectivity of the other mode.
The brief air-rail service provided by TAT-PRR-ATSF did help to increase awareness among passenger traffic managers for both railroads and airlines to the possibilities of using alternate modes of transportation to attract patronage. KCS might have been a little late to this show, but in 1940 they established an interline ticketing arrangement with airlines in Kansas City, Shreveport and New Orleans. The premise was to encourage prospective passengers to ride existing KCS passenger service to one of those cities, and then transfer to a plane for a flight to the passenger's final destination. This seems a little convoluted, but at the time, good highways were not well developed in KCS territory and for the most part, commercial aviation was something seen flying overhead - truly flyover country. Most people were likely still more comfortable with all-train routings, but the aviation angle was an interesting effort by KCS to capitalize on the growing commercial aviation service.
For three public timetable cycles, May 26, September 2 and October 13, 1940, KCS included a table showing which airlines offered flights from the three major aviation hubs on the railroad. At Kansas City, through tickets were available to connecting flights on TWA, Braniff, and Mid-Continent. Only Delta was available at Shreveport, while Eastern, National and Chicago & Southern were available at New Orleans. It is unclear how passengers made connections between the railroad station and airport in any of these cities. Did the ticketing include a transfer coupon, good for taxi or transfer bus, or were passengers expected to make their own arrangements? The new service was advertised in on-line newspapers, as illustrated by these two newspaper ads which appeared in the Pittsburg, Kansas paper in June 1940.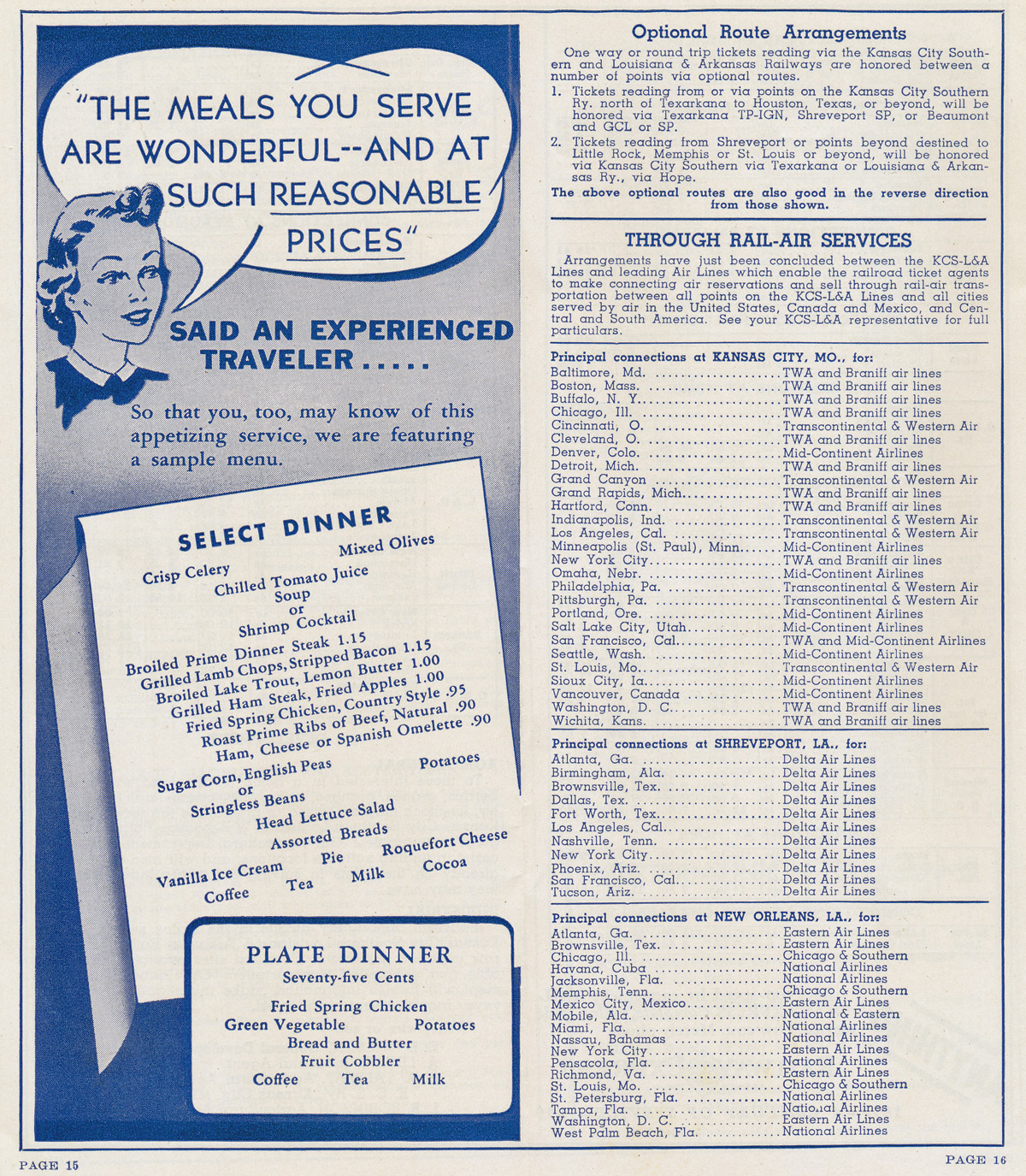 The above table appeared in the May 26, 1940 timetable, but subsequent issues were similar except for minor changes related to airline schedules. In all cases, the KCS was handling only a short segment of the trip, before handing the passenger off to a competing mode of transportation. On one hand, the KCS was likely receiving the same revenue for this passenger as they would be receiving from a passenger using an all-rail routing. However, it is an open question of how this arrangement was viewed by connecting rail carriers who were losing what would likely have been a high-revenue ticket, often with additional revenue from Pullman accommodations. Thus far, no reporting of the KCS intermodal interline effort has been found in the industry trade journal Railway Age, and that might provide some hint about a generally unfavorable reception from other carriers. In any event, the May 11,1941 KCS public timetable contained no mention of the air connection option, but did include five pages (10 panels) of rail connections for every rail connecting point between Kansas City and New Orleans/Port Arthur. Rail connections were featured at Kansas City, Pittsburg, Joplin, Neosho, Sallisaw, Fort Smith, Poteau, Howe, DeQueen, Ashdown, Texarkana, Shreveport, Alexandria, New Orleans, Lake Charles and Beaumont. While some rail connections at major stations were always shown, this was a dramatic reversal from the 1940 issues with airline connections. The relatively short duration of this experimental service might be due to minimal usage, or possibly due to Interstate Commerce Commission intervention.
---
Return to Arkansas Railroad History home page